How Home Ownership Delivers Unsurpassed Family Wealth
There are many financial benefits to homeownership, but probably none more important than its ability to create family wealth.
Your monthly housing expense has to be paid, whether it is to pay rent (with no return) or to pay towards your own home and investment. Using that money for home ownership is one of the most effective methods for building wealth and security.
To this point, National Association of Realtors' (NAR) Economists' Outlook Blog revealed in a recent post:
"Housing wealth contributes positively to the homeowner's and children's economic condition, because home equity can be tapped for expenditures such as investing in another property (which can generate rental income), home renovation (which further increases the home value), a child's college education, emergency or major life events, or expenses in retirement…

Housing wealth (or net worth or equity) is built up over time via the home price appreciation and the principal payments that the homeowner makes on the loan."
The following graph demonstrates the build-up of wealth over time: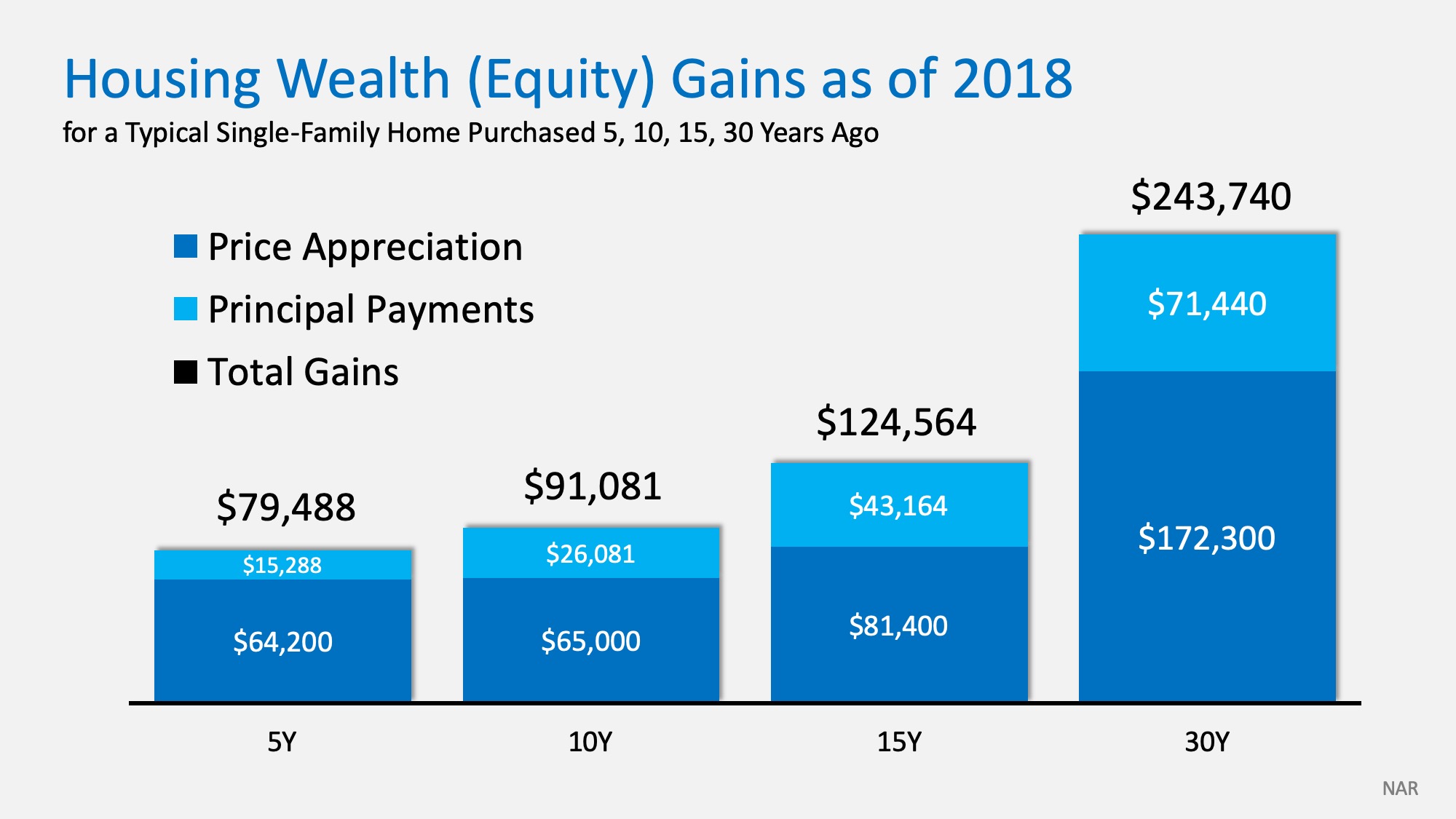 NAR's Chief Economist, Lawrence Yun, explained that even though home appreciation has slowed, homeowners are still building wealth:
"Homeowners in the majority of markets are continuing to enjoy price gains, albeit at a slower rate of growth. A typical homeowner accumulated $9,500 in wealth over the past year."
Later in life, this wealth is crucial…
This wealth is important to a family's retirement plans. In a recent report from the Joint Center for Housing Studies at Harvard University titled, Housing America's Older Adults 2018, they revealed that a renter 65 years old or older has a net worth of $6,710. Meanwhile, a homeowner 65+ years old has a net worth of $319,200. That huge difference will allow for a dramatic upgrade in one's lifestyle during your retirement years.
Bottom Line
Home ownership builds wealth. This, in turn, allows families to have more and better options when it comes to their children and their life in retirement.
I've had the great honor of helping many first time home buyers become homeowners. As a former teacher, I pride myself on my ability to educated and advocate strongly for my buyers to help them feel confident, prepared and protected throughout the home buying process and beyond. Contact me today to start the conversation and get one step closer to home ownership!