The Tampa area, as well as the rest of Florida, is protected by the Save Our Homes (SOH) Act, which limits an increase in the assessed value of a home to the change in the Consumer Price Index (CPI) or 3%, whichever is less. Property taxes are based on the assessed value of a home after Homestead exemption deductions. This law protects Florida homeowners living in their homes from drastic increases in their property taxes.
Qualification for Homestead Exemption
In order to qualify for homestead exemption, the homeowners on the deed to the home must make that home their permanent residence. This can be documented by providing both the title and a form of proof of residence, like a voter registration card or vehicle registration, along with a Homestead application to your county's property appraiser. In other words, homes that are rented out to others are not eligible for the homestead exemption, nor is a second home.
How Are Florida Property Taxes Calculated on Homesteaded Properties?
Homestead Exemption deductions vary by county. In Hillsborough County, deduct $50,000 from the Just Value of the home for all property taxes, except for public school taxes, which carry only a $25,000 deduction. The exemptions are subtracted to arrive at the Taxable Value. The Taxable Value is then multiplied by the county millage rate to arrive at the property tax bill.
The following is an example taken from The Florida Department of Revenue's website:

In the example above, the total millage rate for the county is .018 with .007 allocated for school taxes (qualifying for only a $25,000 deduction from assessed value) and .011 allocated for all other property taxes (qualifying for a $50,000 deduction from assessed value).
To give you an idea of these increases over time, the following chart includes those details from the last ten years:
Historical changes -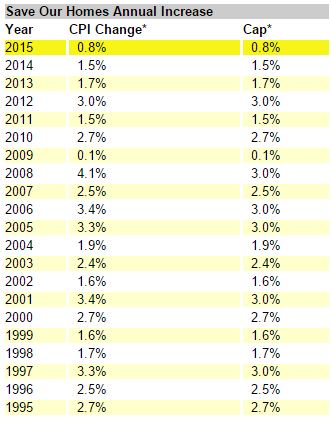 If you're from a high property tax state like New York or New Jersey, you're probably already swooning over such a low tax bill, and you should be. A cherry on top is that we do not pay any state income tax in Florida either; that money comes from tourism taxes. I had to toss that in there, because…well, it matters.
Viewing Homes that are Not Homesteaded
Buyers often ask me about each property's tax bill, which makes perfect sense, but often launches a lesson on Florida's property tax laws, because homes that are not covered by Homestead carry significantly higher tax bills than homes that are covered. That means that buyers planning to live in their new home and apply for Homestead Exemption will typically have a lower tax bill than is currently levied on that property. It will depend on how much higher the purchase price is from the current assessed value. The biggest change to the assessed value will be triggered upon purchasing the home and be reflected in the following year's assessment. Once that has been established, increases will be minor as per the exemption rules.
How are Property Taxes Paid?
Property taxes here are paid in arrears. That means that they are due AFTER the year in which they are charged. Property tax bills in Florida are payable as early as November 1 of each year, though not actually due until March. Early payments are slightly lower than later payments. The following discounts apply: November payments enjoy a 4% discount, December payments get a 3% discount, January payments get a 2% discount, and February payments get a 1% discount. By April 1, taxes become delinquent. (Don't do that; it's a bad scene.)
Homeowners carrying a mortgage on their property have escrow accounts held by their banks to pay for property taxes and homeowner's insurance. Escrow accounts hold some money in reserve, and then split the cost of these expenses over 12 months. If your property taxes total $1200/year, about $100/month will go to your escrow account for taxes, and your bank will pay that bill for you when it becomes due.
If you purchase a home that has not yet been homesteaded, then the bank will calculate your escrow based on the current tax bill at first. Once your homestead exemption is approved, it's best to contact your bank directly to alert them of the change and have them reassess your escrow payments to reflect the decreased property tax bill and lower your monthly payments. Although you'll pay a few higher payments at first, your monthly payments will be lowered and extra money will be applied to your escrow. In other words, there is nothing to lose buying such a property. You just want to be aware of the difference and contact your bank as soon as possible to get your new monthly payments.
If you purchase your home using cash, then your property taxes will be paid directly by you, either in one lump sum when they are due, or you can elect to make payments using a payment plan.
Portability of Homestead Exemption
If you've lived in a homesteaded property in Florida, then move to a new homesteaded property, then you can transfer some of your exemption to your new home. This recent law is a tremendous perk for homeowners, because it saves them significant money on their property taxes. The deadline for filing is March 1, but it's best to file as soon as possible. The application is available online.
Protection from Forced Sale for Debt
Not only do Florida's rules on homestead keep property taxes reasonable, but they also protect properties from debt. Article X of Florida's Constitution protects homesteaded properties from forced sale to cover debts. Exceptions to this rule are debts in property taxes or other assessments on the home (like HOA dues) and payments to contractors that perform work on the property. There are limitations on acreage as well, but they are generous. In other words, bankruptcies or other settlement of debts usually will not result in the forced sale of a homesteaded property.
All in all, our property taxes in Florida are significantly lower than those of many other states, and Florida's Save Our Homes Act helps Florida residents keep them even lower.